Strategy & Consulting
We combine business strategy with experience and engineering to help you define business objectives and apply the best-fit solutions to achieve your goals, drive growth and navigate digital transformation.
Scale. Speed. Agility.
Applying innovation to unlock where the real value exists for you and embracing disruption to thrive in the new and unknown, and lead in the future.
Manifesto
Fusing strategy with experience and engineering to accelerate growth and effectiveness
Traditionally the steps from customer and employee needs to strategy to technology execution is either too fragmented, too long, too limited, too risky or all of the above. Business objectives and strategies should be defined and shaped from day one. At the same time, technology execution and digital transformation should be defined in parallel by thoughtful strategic context. To stay agile in an ever-changing world, the core business must be running while simultaneously identifying and investing in the new. To truly accelerate growth and effectiveness through digital business transformation requires fusing the user experience, business strategy and the technology engineering and execution.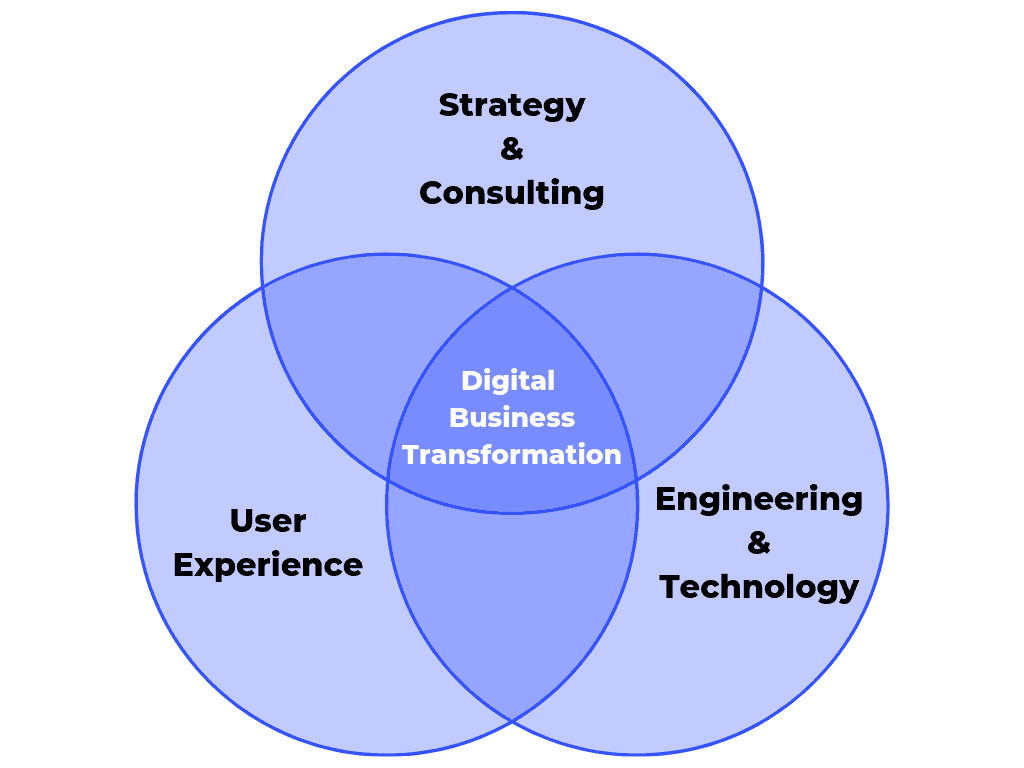 Nuvem Group's strategy and consulting services enables leaders and organizations to act quickly and confidently as they pivot to the future.
Known for our ability to execute at speed, we help clients determine clear, actionable paths to digital transformation by bringing them new thinking on business and technology.
Our strategy and consulting teams work seamlessly with our experience and engineering teams to ensure we develop the best-fit strategies to drive digital transformation. We combine deep industry expertise, advanced analytics capabilities and human-centred approaches to help our clients shape their business objectives and drive growth.
Digital Transformation
Growth, Innovation & Competitive Advantage Strategy
Technology Consulting
Customer Insight & Growth
Operations & Supply Chain
Talent & Organization
CFO & Enterprise Value
Digital Transformation Success Stories
One of the key players on the Italian financial services market needed to perform a complete digital transformation, while integrating the solution with the company's existing IT infrastructure. We created a mobile solution that strengthens the company's relationships with customers and partners, increases the internal operational efficiencies by introducing self-service and automation, and improves the client experience. Their customers and employees are happy to use a modern digital tool that's both empowering and simple to use.

Mobile App

Financial Services
A fintech startup needed a blockchain wallet app that allows its users to instantly send and receive Bitcoin and Ethereum. The application also needed to be as simple as any non-crypto wallet app. We created an app for iOS and Android that allows users to make one motion to instantly transfer their cryptocurrency to the recipient in close proximity or at a distance. Users can also receive cryptocurrency and sync contacts with the application. Our blockchain-based solution allowed users to anonymously and effortlessly send and receive cryptocurrency via their mobile device. The clean design of the application ensures a smooth user experience and the process of sending cryptocurrency requires minimal effort.

Blockchain Wallet App

Fintech
A legendary music festival organization turned to Nuvem Group to build an event app with essential features — in a month. The app needed to provide all the event-related information to the guests and help them navigate the location, in a comfortable experience without printed materials. Using our approach that combines custom software development and a low-code mobile app platform, Nuvem Group created an app with comprehensive News, Schedule, and Media sections, a vivid map and uncluttered FAQ section — all in a clean and appealing design. We delivered the app before the one-month deadline, and it became a handy digital brochure that allowed the guests that came from all around the world to comfortably enjoy the festival without the need to consult printouts.

Event App

Music & Entertainment
One of the biggest construction companies in Norway gets a digital transformation of their ERP with three spot-on solutions. Their legacy systems provided segmented data and functionality. The company needed a single software platform that would streamline project management across all departments, elevate the partner management processes, and simplify truck and asset management. Closely collaborating with the client, we created three streamlined and interconnected solutions on a single platform: a labor management portal with scheduling and real-time reporting; a comprehensive project management system with an app for on-site inspectors; and a mobile solution for truck drivers that simplifies asset delivery and management as much as possible.

ERP & Software Integration

Construction
Tell Us About Your Problem or Project
Nuvem Group is a dedicated partner in transformation, helping companies embrace change and adopt breakthrough strategies and digital solutions that brings real value to their business and their customers.
More Services
from Nuvem Group
Strategy & Consulting
Digital Strategy
Growth, Innovation & Competitive Advantage Strategy
Technology Consulting
Customer Insight & Growth
Operations & Supply Chain
Talent & Organization
CFO & Enterprise Value
Experience & Design
CX Strategy & Transformation
EX Strategy & Transformation
Product, System & Service Transformation
Cognitive Experiences
Connected Environments
Marketing Modernization
Omni-Channel Experience Platforms
Omni-Channel Campaign Platforms
Personalization
Marketing Operations
Marketing Resources Management
Data & Artificial Intelligence
Data & Analytics Strategy & Roadmap
AI & Advanced Analytics
Intelligent Automation
Enterprise Data Management
Self-sufficient AI Operating Model
Digital Product & Innovation
Application Development
Custom Software Development
IT & Application Modernization
Technology Stack Consulting
Digital Product Innovation
Digital Organization Enablement
Enterprise Agile Adoption
Full Cycle Product Engineering