About Us
Elevating the
human experience.
We are advisors, strategists, designers, and engineers focused on elevating the human experience, above all else.
Our story
Solutions built
for a purpose.
When we started, we set out to create products that would help businesses overcome the challenges of digital transformation and their journey to the cloud.
Today, our solutions, systems, and products are deployed for the most critical applications in commercial, government, and non-profit institutions in the world to solve problems we hadn't even dreamed of back then.
We're honored to build digital solutions that help make our partners better at their most important work.
Why we're here
We believe in elevating the human experience, not replacing it.
Human experience is about connection. It's part of every product, service, thing and human relationship. The network, with its great power in terms of technology and speed, influences the main changes in society and the way we live, work and play.
Nuvem Group was founded to help organizations come up with simple solutions to their business and technology challenges. Today, we go further: building digital solutions that augment the human experience. We know that with great software and the right technology, people and organizations can make these changes possible. We're able to understand innovation and new technologies, and make it functional for the use in business and in life.
In 2014, when we looked at the available software, we saw products that were too complex or limited to handle novel problems. Moreover, we saw how custom systems took too long to deploy and needed many services to maintain and improve.
We saw too many inefficiencies and organizations forced to make unacceptable trade-offs.
We saw a need for a different approach, and we knew it would take a different kind of company to build the technology at the heart of our connected world. Simpler. Better. Safer. That's why we founded Nuvem Group.
To improve the way we live, work and play, by developing digital solutions that help make our clients better at their most important work, make their customers and employees happy, and evolve our community with agility in a fast-changing world.
To build the technology at the heart of our connected world. Simpler. Better. Safer.
To create greater human experience, while creating better outcomes for our people, clients, and communities.
We inspire our people to lead organizations through their digital evolution, define the future of technology and deliver positive impacts that improve the way we live and work. Our firm is also committed to our employees and designed to operate as one—united by a strong set of values, including a deep commitment to diversity.
Our Approach
It's about building trust and enabling long-term success.
We know how technology and digital trends are reshaping businesses and the world. And we care deeply about helping you tackle your biggest challenges with the right solutions, the right way. That's why we reinvent the core to uncover where the real value exists for you.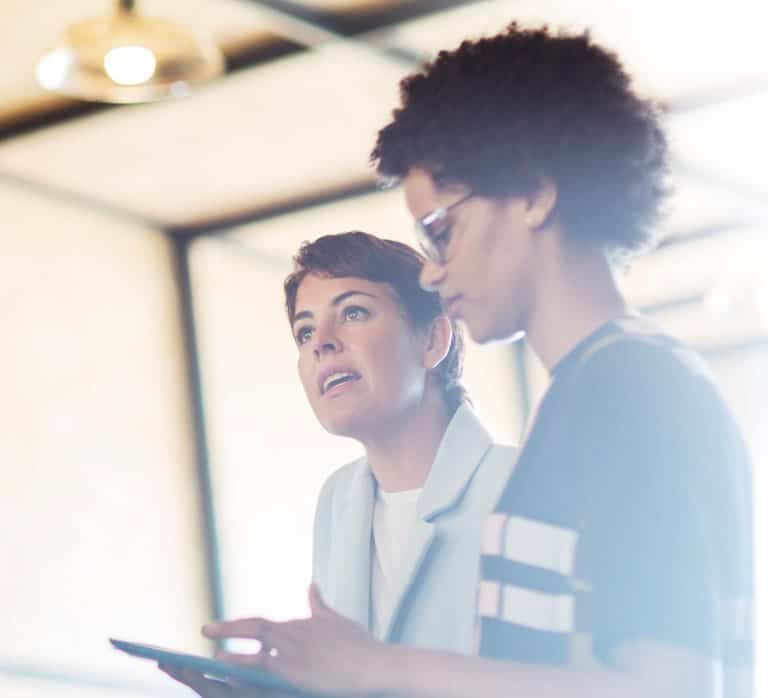 With Nuvem Group, it's never just about the project at hand. We believe in generating success collaboratively, leaving your organization stronger after every engagement, and building trust for the next big challenge.
Across the US, and Europe, our teams have the autonomy to move fast and do what's right for our clients, making us more personal and nimble than traditional consulting firms, and setting you up for long-term success.
Our Digital Expertise Goes Deep
Our experienced engineers leverage cutting edge patterns, platforms, and services to build digital products that scales and delivers real business results. Our engineers build fast, clean, reliable code that drives business outcomes for our clients every day.
Developing a tight, cohesive strategy for concepting, designing, and building your digital products is paramount in any effort. We bring together business, design, and technology to define, build, and enable digital products throughout the lifecycle.
We design beautiful, purposeful, easy-to-use experiences that help companies reach audiences and create products. We use a human-centered approach to create products that resonate with users and drive engagement, growth, and business results.
We architect and support next generation platforms and solutions, optimizing processes, and overcoming limitations in legacy systems. Architecture, engineering, and automation expertise that supports companies in making the power of the cloud real.
At our product development studio locations, we welcome clients into the design and innovation process and demonstrate how our teams collaborate across disciplines to create and deliver products and services.
We embed data and machine learning into the very fabric of what we build to create intelligent products that surprise and delight. Using deep data to create intelligent, connected, powerful products and experiences that continue to grow and progress. Data is the central nervous system, the connective tissue of every product and experience that connects and delights.
Endemic to everything we do, quality is delivered in an agile, iterative, holistic fashion to build products that meet customer needs every time. Ensuring products are resilient through their entire lifecycle by combining software and systems engineering in an automated approach. Modern platforms and automation that drive resilience, extensibility, and scale for both products and their infrastructure.
Lead-from-the-front technology and Agile delivery experts. They partner with clients to translate requirements into actionable steps. We provide an independent view and a value-driven focus to define solutions at-scale and mitigate implementation risk.
We introduce new ways of working to empower organizations to be more nimble and value focused, achieving faster time to market. Endemic to everything we do, quality is delivered in an agile, iterative, holistic fashion to build products that meet customer needs every time.
Our core values
Our core values are an active part of everything we do. Each one reminds us to stay true to ourselves while driving amazing outcomes for our clients.
Drive connection and teamwork.
Inspire passion and adventure.
Take ownership and get it done.
Fuel growth and innovation.
Always be humble and stay curious.
Build and shape a better future.
A word from the founder
Invent the future.
"We live in an incredible era, one that will be the mother of the future. It's a unique opportunity that does not happen to all generations. And the best way to predict the future is to invent it, now.

That is why at Nuvem Group we invest every day to contribute to this "new world". We believe that every company is now a software company. As software becomes part of every industry and more embedded in our world, it needs to mature, and be robust enough for different programs. It needs a core sense of identity and purpose within companies. We found that innovation is the key to success when it combines the ability of leveraging human ingenuity with incredibly powerful software that makes our clients better at their most important work.

There's a reason our clients choose us. Not only do we provide world class technology solutions, we help clients build their own on top of it. Our people have the courage, imagination and expertise to bring about true transformation.

And together we can impact community by community, improving the way we live, work and play.

This is what excites us every day at Nuvem Group, knowing that we can elevate the human experience, above all else."

Raffaello De Nicolais

Co-founder and CEO